MORE LWVGB NEWS AND NOTES!
LWVGB Serves Greater Birmingham's Voter Registration and Education Needs
LWVGB volunteers have been many places over the last months - registering, helping restore voting rights, and educating about the new photo voter ID requirement.
Read the report
.
See the photos
. Thank you to the following League members - and even a few League family members - for their dedicated voter service!
Connie Arnwine
Yvonne Brakefield
Richard Brooks
Susan Brooks
Joan Burroughs
Kaydee E. Breman
Sybil Breman
Judith Hand
Maggie Howard
Jean Johnson
Pete Johnson
Nancy Sales
Ann Smith
Jim Winkates
Rita Winkates


The League was active in encouraging citizens to vote and "Celebrating Democracy" on National Voter Registration Day. In addition to registering voters that day, we also called on citizens to make their voices heard at the ballot box with this
press release, "The League of Women Voters of Greater Birmingham Challenges Citizens to Register to Vote On National Voter Registration Day 2014" written by
Vice-President Ida Tyree-Hyche, Esq.., published on al.com on Sept. 17, 2014. President
Yvonne Brakefield-Knowles was quoted,
"Voting is at the core of our democracy and what it means to be an American... It is a key way for us to take control and have a say on what matters most to our families, our communities and us. "


League Speaks Out for the Voting Rights Amendment Act of 2014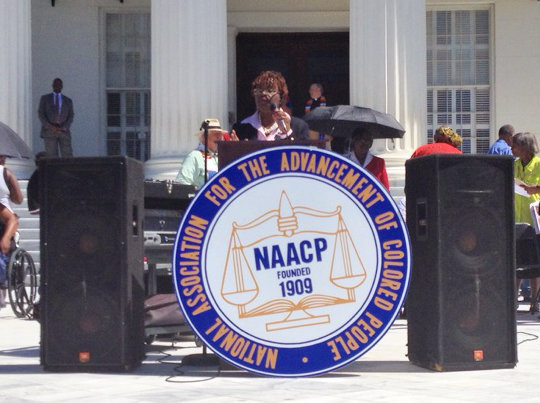 On Monday, Sept, 22, LWVGB Vice-President Ida Tyree-Hyche, Esq. urged citizens to "Move forward on voting rights!" at the Moral Monday rally on the Alabama capitol steps in Montgomery. The crowd was in full agreement.
L
isten to the audio of her address
[other audio formats:
.m4a
.ogg
.wav
] Other LWVGB members present in support were Nancy Ekberg, Connie Arnwine, Joan Burroughs, Catrena Norris Carter, and Ida's husband The Rev. Albert L. Hyche.
See all the photos of the day.
Thank you, Ida and all the other Birmingham League members who made the trip to Montgomery to stand against voter suppression!